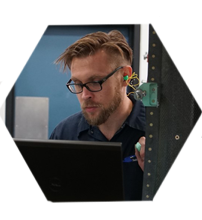 Stuart Marshall, Chief Engineer / CEO
    Stuart has been designing and manufacturing performance ground, unmanned aerial, general aviation, space, and aerospace vehicles and structures in the Southern California area for over 17 years.  He has been engineering lightweight performance composite structures for over 21 years.  Before starting Urbineer, hired by Swift Engineering, Stuart served as Program and Technical Lead for co-design and complete build of the JMR SB>1 Defiant helicopter airframe for the Joint Venture between Sikorsky and Boeing.  This was preceded with a similar role in the development of advanced airframe technologies for Sikorsky's Combat Tempered Platform Demonstration, CTPD.  He has been part of numerous full vehicle development programs such as: Eclipse Concept Jet ECJ or Eclipse 400, Class I Unmanned Ducted Fan, FN09 Formula Nippon Racing Chassis, and a confidential commercial VTOL demonstrator. Marshall has experience in program management, engineering, and business development, as well as production experience on programs including FN09 (Formula Nippon Racing), Global Hawk / Triton (NGC), BAT (NGC), and Iridium Satellite Dispensers (SpaceX). During his time running manufacturing operations, Swift Engineering received NADCAP accreditation, AS9100C, and Small Business Supplier of the Year for Northrop Grumman (NGC).  Stuart Marshall has a Bachelor of Science Degree in Mechanical Engineering from the University of Virginia.  His career started as a designer in the Medical Automation Research Center, MARC, at the University of Virginia Hospital.  Before coming out to California, he worked in the composite structural design and manufacturing for the performance automotive industry.
Arakel Melidonian, Head of Engineering
    With a proven track record of driving complex concepts to completion within an aggressive schedule, Arakel has accumulated over 14 years of experience performing structural design, analysis, manufacturing, and assembly for the aerospace sector. Prior to starting Urbineer, at Swift Engineering, Arakel was a critical member of a small engineering team that performed the structural design and build of the Boeing-Sikorsky Defiant SB-1 demonstrator, a 60ft long 250kn composite helicopter competing for the Future Vertical Lift platform. Prior to Swift Engineering, Arakel was a Sr. R&D Project Engineer with HAECO Cabin Solutions where he spearheaded projects from the early conceptual design stages into high volume production FAA certified structures. Arakel also worked for the Air Force Research Laboratory at the Edwards Air Force Base in California. During his tenure, Arakel performed design, FEA analysis, schematic layout, and component procurement in support of large liquid rocket test stands. Prior to the AFRL, Arakel worked for AeroVironment in Simi Valley, CA where he performed composite structural analysis on Global Observer; a 175ft wingspan hydrogen powered high altitude composite Unmanned Aerial Vehicle (UAV). Transitioning from a high-volume production atmosphere to a pure R&D house has allotted Arakel with a wide spectrum of mechanical and manufacturing experience. With a comprehensive foundation of engineering principals coupled with a deep breath of practical knowledge, Arakel has extensive industry practice in airframe design, composites, additive manufacturing (3D printing), 3D CAD, FEA, high volume machining, injection molded plastic, welding, and thermoformed plastic.